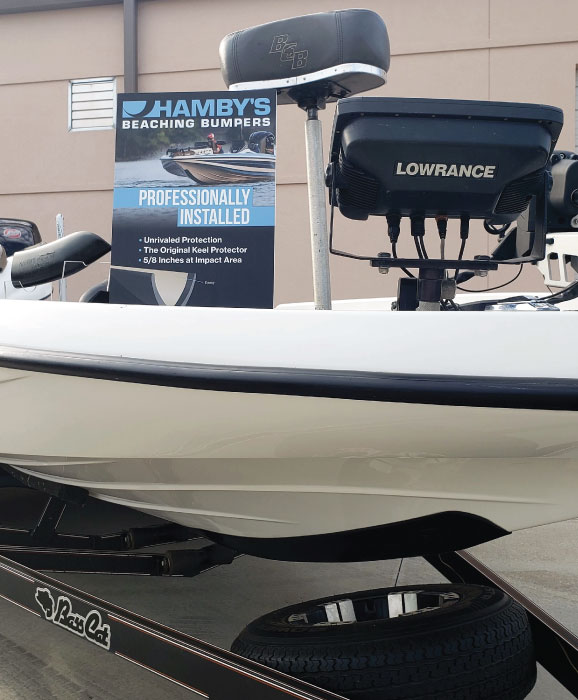 Our Story
From Its humble beginnings in 1988 using a wooden mold, Ernie Hamby created the industry's first injection molded patented keel protector. This product is the most durable keel protector today. Supplied as an OEM product to the best bass boat manufacturers, it is preferred by both recreational and professional bass anglers worldwide. In addition to being available as a factory-installed option, the Beaching Bumper can be installed by select dealers nationwide.
In 1994, Ernie Hamby brought on Roger Sutterfield as a business partner. Soon after that, Rogers's son Jake joined the team. Together they expanded the business by supplying the Beaching Bumper to many leading bass boat manufacturers, including Ranger, Bass Cat, Skeeter, and Vexus. Ernie Hamby retired in 2003 and sold the business to Roger.
In 2006, Hamby's joined forces with Megaware KeelGuard, the world's first do-it-yourself patented keel protector. Together, Hamby's Beaching Bumper and Megaware KeelGuard have provided hundreds of thousands of boat owners with industry-leading boat protection products.
Many of the world's leading tournament bass fishermen trust and rely on Hamby's Beaching Bumper to protect their investment. Anglers can take their boats into the toughest areas and even beach them on a concrete ramp during weigh-in without the worry of suffering damage to their boat. As an added benefit, Hamby's Beaching Bumpers can increase the resale value of any boat. Hamby's is family-owned and proudly made in the USA.